This is my "greatest" list of this year's Glastonbury festival. What impressed me at this year, my awards if you like:
:: Best act:
The Swell Season
Runners up The Verve, The Raconteurs, Crowded House
:: Most disappointing act
Vampire Weekend
:: Best sing-a-long:
The Drugs Don't Work: The Verve
Runners up: She's So Lovely: Scouting for Girls, Weather With You: Crowded House
:: Best
cover:
Newton
Faulker
: Massive
Attack's
Teardrop
Runners up: The Feeling:

Aha's

Take On Me
:: Best food:
Glastonbury Rugby Club
Chili
Wrap
Runners up: Welsh meat and gravy

oggie

,

buffalo

burger
:: Best fancy dress:
Officer's Tiger
Runners up: Bus and G's Smurfs
:: Best flag spotted:
A tiny pennant on a huge stick that read "flag"
Runners up: "I slept with Chris

Moyles

"
:: Loved:
The weather
Runners up: the company, the atmosphere
:: Hated:
Having to leave
Runners up: the bit of rain we had (meaning we missed The Levellers)
:: Best improvement to the site:
The bigger John Peel Stage with screens outside
:: Worst "improvement" to the site:
No speakers ouside the John Peel tent so you couldn't hear what was on screen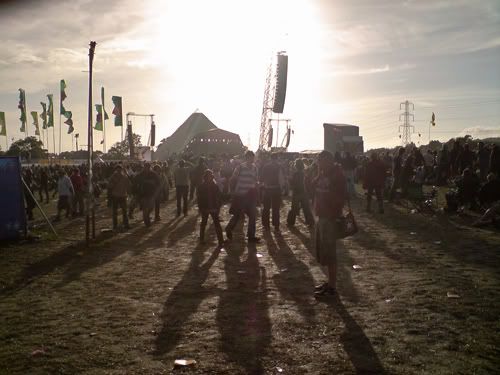 ::
Glastonbury moment:
Arm in arm with friends
singing
Hallelujah with Leonard Cohen on stage, the sun going down over the Pyramid Stage, turning around and see tens of thousands of people in the field doing the same, smiles on faces. THAT'S why I go to Glastonbury.
Runner up: The Swell Season playing their Oscar winning song, Falling Slowly, The fingertip Mexican wave towards the stage, orchestrated by Neil Finn of Crowded House