I didn't make any posts yesterday because Sally had bought me tickets, as an early birthday present, to see the reformed The Police in concert, at Twickenham Stadium in London and I can tell you IT WAS THE BEST GIG I HAVE EVER BEEN TO! The following is an approximation of the set list (they definitely played all these, not necessarily in this order, but it's close!):




Message in a Bottle

Synchronicity

II
Walking on the Moon
Voice Inside My Head
When the World is Running Down You Make The Best of What's Still Around
Don't Stand So Close To Me
Driven to Tears
Hole in my Life
Truth Hits Everybody
Every Little Thing She Is Magic
Wrapped Around Your Finger
De Do Do Do De

Da

Da

Da

Invisible Sun
Walking in Your Footsteps
I Can't Stand Losing You
Roxanne
(Encore) King of Pain
So Lonely
Every Breath You Take
Next to You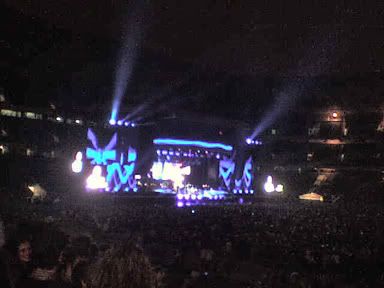 As a huge Police fan as a kid I was a bit worried that my childhood's favourite band would come back with a washed out middle of the road reworking of all their classics. When I've seen a solo Sting play the groups classics he's always reinterpreted them depending on his backing band and style of music he's playing at the time. I needn't have worried. Although Sting's voice is fuller and more mature this was classic Police. Yes, there were slight reworkings but it was more of an extra Andy Summers guitar noodling or Stewart Copeland having a manic session on his extra percussion cymbals, tubular bells and massive gong.
From the lights going down to a huge cheer and them fading up to the riff from Message in a Bottle we all know we were in for a rocking night. All the classics were played and it seemed like it was just for the fans. The 55,000 that made it to west London must have had the average age of 45+ and they re-lived their youth (much in the way the three men on stage were) and sang and dance along to every song. It was electric.
The stage and lighting was deceptively simple, with the music doing the talking but the huge lighting/video screens enhanced the show with the famous yellow, blue and red paint stripes wiping across the screens to Synchronicity II and a huge 3D brontosaurus skeleton tramping across the stage to Walking in Your Footsteps. Sting has been accused in the past of preaching but the closest it got to that was the images of Third World Children staring from the screens during Invisible Sun. (Much of the political slant of The Police and especially Sting in his solo career has become mainstream these days anyway - remember this comes from an era pre-Live Aid).
And there's nothing like a concert where it looks like the band themselves are having as good a time as the crowd. Whatever the differences between the band in the past, there's no denying they "make beautiful music together". During So Lonely, Sting even sang in different verses "Welcome to the Andy Summers/Stewart Copeland show" (instead of "one man show").
They're such tight musicians, each were given a chance to shine. I still don't understand how Stewart's flailing arms and poly-rhythmic beats actually fit the songs like they do and Andy's guitar work is stunning. Sting's voice sounds better than ever and live you really notice just how integral his bass playing is. They are back performing together because it so much fun.
With the encore seeming to end on Every Breath You Take before a final flurry of All I Want is to Be Next to You Stewart summed it up as he left the stage when they left the stage: "This is our town - London. I'm American but this is where we come from, right here." It was a special homecoming. Sting had earlier announced it had been 23 years since they last played. Now old enough (or there abouts) to have bus passes they showed us that not all reunions have to be staid, purely cynical money making exercises but can be thrilling events that are done just cos everyone involved is just so damn good at it.
The Police were supported by Sting's son Joe's band Fiction Plane and Maximo Park. Fiction Plane were superb and I will certainly be checking out their CD. It was more than nepotism that made them worthy of taking the stage, it's rare that a band will grab my attention when I know none of their music previously. Joe certainly has his Dad's looks and his voice certainly has the Sting sound every now and then but they had their own sound and they rocked the few who had turned up early enough. Those who decided to watch the England football match on TV missed out.
It's a shame the same can't be said about Maximo Park. Very disappointing. Having caught part of their set at Glastonbury Festival I expected more but was just left feeling that it wasn't difficult to chose their singles, as they were the songs that had a melody of sorts. I can't see them returning in 23 years time to such a reception as the headlining act.