::
SITUATION COMEDY AND COMEDY DRAMA
The Mighty Boosh
"…beautifully constructed and layered… and oozes originality on so many levels. It is a fresh and invigorating piece of high-concept comedy that has captured the imagination of its target [audience]."
::ENTERTAINMENT
QI
"The jury described the winning show as a phenomenon – a Great British programme, incredibly old-fashioned but absolutely part of the zeitgeist. It's the panel show that's beyond a panel show."
::SOAP AND CONTINUING DRAMA
The Bill
"The jury felt that this series reflected the best of powerful contemporary drama - strong storylines, consistent scripts and good characters."
::CHILDREN'S DRAMA
My Life As A Popat - Evil Granny
"Sometimes bizarre, certainly unique but never dull – the winning programme is a children's comedy that is genuinely funny."
::CHILDREN'S PROGRAMME
Serious Andes
"An empowering, moving, compelling and beautifully executed documentary that was truly engaging."
::FORMATTED DOCUMENTARY
Meet The Natives
"It's rare… to find programmes that combine humour, warmth and a real sense of purpose so successfully. The characters were unforgettable and the insights into modern British life really stay with you."
::HISTORY
Andrew Marr's History Of Modern Britain
"A combination of wit, insight and scholarship were deployed to provide a fresh take on our recent past."
::SCIENCE AND NATURAL HISTORY
Parallel Worlds, Parallel Lives
"Weaving together an emotional odyssey with an exploration of some of the most challenging front-line science was an audacious idea, but this film pulled it off magnificently."
::OBSERVATIONAL DOCUMENTARY
You're Not Splitting Up My Family
"Extraordinary and absolutely outstanding, a prime example of what documentary could – and should – do. Immensely compelling and very moving, the film gave viewers a profound insight into a process rarely, if ever, observed at such close quarters."
::FEATURES AND LIFESTYLE SERIES
Top Gear
"This series has continually reinvented itself, and the three presenters really are Three Men in a Boat for the 21st Century."
::DAYTIME PROGRAMME
Come Dine With Me
"A pioneering show for daytime, with refreshing, articulate characters, and great energy and pace."
::NATIONS AND REGIONS PROGRAMME
Boys Behind Bars
(Scotland)
"Deserving of a prime network slot…, the winning programme combined amazing access with riveting stories and great characters."
::PRESENTER
Andrew Marr
"… combined wit, humour and intellectual rigour without a trace of stuffiness. A wonderful story teller, he bravely dispensed with interviews and in so doing invented a new kind of television essay."
::DIGITAL CHANNEL PROGRAMME AWARD
Fonejacker
"The winning show exemplifies what digital TV should be about; where talent can explode on to the scene from nowhere and rewrite what television can do."
ARTS
Genius Of Photography
"The jury praised the imaginative direction of the winning programme, which they said was intelligent, inspiring and a thoroughly enjoyable watch."
::INTERNATIONAL AWARD
Flight Of The Conchords
"…warm, fabulous, and one of the most surprising, fresh and original TV comedies to arrive in a long time."
::DRAMA SERIAL
Britz
"The jury found the boldness of this contemporary drama compelling. Riveting and brilliant, it held a mirror up to a life not often shown on screen."
::SINGLE DRAMA
Stuart: A Life Backwards
"This was a refreshing, exciting, inventive and unexpected film. With a great lightness of touch, a potentially bleak subject was treated with enormous affection, complexity and wit."
::DRAMA SERIES
The Street
"Fabulous writing that tackles big stories in an incredibly accessible way and delivers a compelling emotional hit every time."
::ACTOR - MALE
Matthew Macfadyen - Secret Life
"The jury was struck not only by the bravery but also by the complexity of this performance which left them torn between sympathy and loathing. … an utterly compelling performance."
::ACTOR - FEMALE
Sally Hawkins - Persuasion
"The jury felt that the winning actor brought an extraordinary depth and subtlety to a deceptively complex role, and re-told a familiar story in a brilliantly fresh performance."
::WRITER - DRAMA
Heidi Thomas - Cranford
"The writing literally shone through - dancing effortlessly between rich comic subtext and almost unbearable emotion. Idiosyncratic and tender, and yet hugely confident and bold."
::WRITER - COMEDY
Graham Linehan - The I.T. Crowd
"Skilful writing with dextrous word-play and great characterisation makes this a quick witted and superb show with universal appeal."
::ENTERTAINMENT PERFORMANCE
Harry Hill - Harry Hill's TV Burp Series
"The winning performer has masterfully moved his show from the edge to the heart of the schedule. His inventiveness and wit shine through a simple format in a unique way."
::COMEDY PERFORMANCE
David Mitchell and Robert Webb - Peep Show
"… the winners have grown into television's most consummate comedy performers. Their characters are beautifully drawn and the two performers play brilliantly off each other."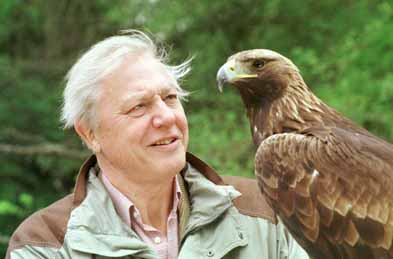 ::LIFETIME ACHIEVEMENT AWARD -
Sir David Attenborough CH CVO CBE FRS
"...Inspiring millions with the wonders of nature, no one has contributed more to both broadcasting and the conservation of nature than Sir David Attenborough."
::Judges' Award -
Glenwyn Benson
"...one of the most influential figures in factual broadcasting over the last twenty five years... In a fast changing industry, Glenwyn is true to her convictions and remains steadfastly loyal to the audience. Glenwyn is rare indeed - driven purely by the need to serve the public."