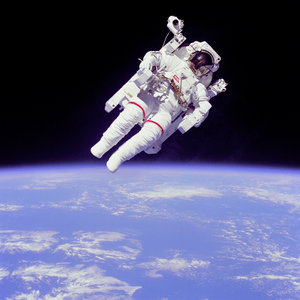 ...or woman? The European Space Agency have said it's looking for four new astronauts to replace it's aging team of current space travellers. They have set out a list of requirements for missions on the International Space Station starting in 2012 or 2013, with the ultimate goal being possible missions to the moon and Mars. Between 20,000 and 50,000 aspiring astronauts are expected to apply for the years of training, developing expertise and learning technical skills that may not even lead to going into space.

Now, when I was just stating as an A-Level student my first Graphic Design
lessons
was a get-to-know-you session. We all sat in a circle and the tutor asked us one by one to say our names and what we would like to do in with our lives. The other students said said they wanted to go into advertising or work in magazines and the like*. When it came to me I said "I want to be a spaceman."
Suffice
to say the tutor wasn't very happy but it was true. I'd love to go into space! Trouble is, with the
ESA's
criteria
I don't think I could learn Russian or get a science degree before I am too old for them.
If you fancy following the few pioneers who have travelled into space, this is what you need to do or be:


Display "team competence, empathy and emotional stability".
Have the

ability

to work in stressful conditions
Aged 27-37
To be chosen from

ESA's

17 member countries
Have a science degree
Fluent English
Know a smattering

of

Russian
Be more a team player than "an adventurer"
A spokesman said "We are not interested in the Right Stuff; we want the right staff".
Selection will start on May 19, to be followed by a huge number of psychological tests, skills assessments, medical evaluations and formal interviews. Those chosen will be announced in 2009.
Fancy it?
~~~~~~~~~~~~~~~~~~~~~~~~~~~~~~~~~~~~~~~~~~~~~~~~~~~~~~~~~~~~~~~~~~~~
*Funnily enough I now work for an advertising agency, I wonder if any of my classmates went in to space exploration?