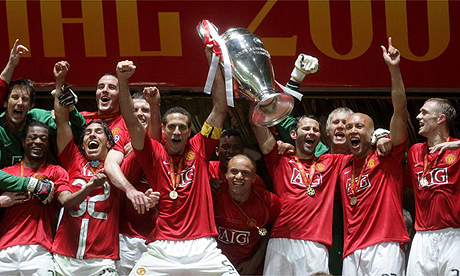 Well, I'll keep this short cos I never get any comments on football related threads, but it's been a great season for teams close to my heart. Topped off with Manchester United (the team I support) not only securing the Premier League title but also winning the Champions League in Moscow last night, beating Chelsea on penalties.
It was a fantastic match and the stmosphere at the pub was electric. United were well in control and 1-0 up until Chelsea equalised just before half time. Chelsea were unlucky and powered back into the second half but both teams failed to score again, even after extra time. The penalty shoot out was nail biting and went both ways after misses by both Ronaldo (who had scored United's goal) and Chelsea's John Terry and Nicholas Anelka. But only the winners name will be remembered and Sir Alex Ferguson's side won their 29th trophy under his reign. And Ryan Giggs got his Manchester United record breaking appearance, coming on for Paul Scholes (who missed out playing in United's last Champions League final win in '99).
The best man at my wedding, Nobby, was in Moscow (and is a Chelsea supporter). That result means he remains my best man.
This is a list of why my season has been great:
:: Manchester United won the Champions League
:: Manchester United won the Premier League
:: Portsmouth win the FA Cup (I used to live in Pompey)
:: Peterborough promoted to League One (I live in Peterborough)
:: Exeter promoted to League Two (I used to live in Exeter)
but i is counteracted by:
:: England failing to qualify for Euro 2008